"Employees' Perception And Awareness Towards Corporate Social Responsibility Practices: A Case Study of Private Telecom Company".
Bhawna Saxena

Research Scholar, School Of Business management, IFTM University, Moradabad, UP.
Keywords:
Corporate Social Responsibility (CSR),, Engagement in CSR, Perception, Awareness, Telecom industry
Abstract
Purpose: This research is based on the study of CSR Practices in Vodafone Idea Limited, the company engaged in the Telecommunications Industry. To discover the extent to which executives and managers represent their awareness and their perceptions of corporate social responsibility (CSR). Based on the quantitative analysis, the paper provides evidence that while a great proportion of managers express a highly positive attitude.
 Methodology: A case study questionnaire was administered to 100 respondents dealing with Vodafone Idea Limited Company operating in Mumbai (Maharashtra), Shimla (H.P) area India, with results from Likert scales analysis using descriptive analysis. This was descriptive research design using a survey research & purposive sampling technique. Data was collected from both primary & secondary sources to meet the objectives of the research.
 Results: The findings of this study have implications for company-wide efforts to find ways to enhance CSR perceptions by helping top management and mid-level managers understand that enhancement of positive employees' perceptions of CSR activities is the first priority for resolving ethical conflicts among employees, owing to the pressure of goal attainment and the company's social performance. The result of this research can be used in shaping management policy and educating about CSR to their employees
 Recommendations: (1) Vodafone Idea Limited Company should continually improve to achieve a high level of social responsibility as well as achieve greater loyalty from their employees. (2) The company should do what is necessary to raise the employee awareness level of social responsibility. (3) The company should consider that the perceptions of employees who actually perform CSR activities are more important than anything else.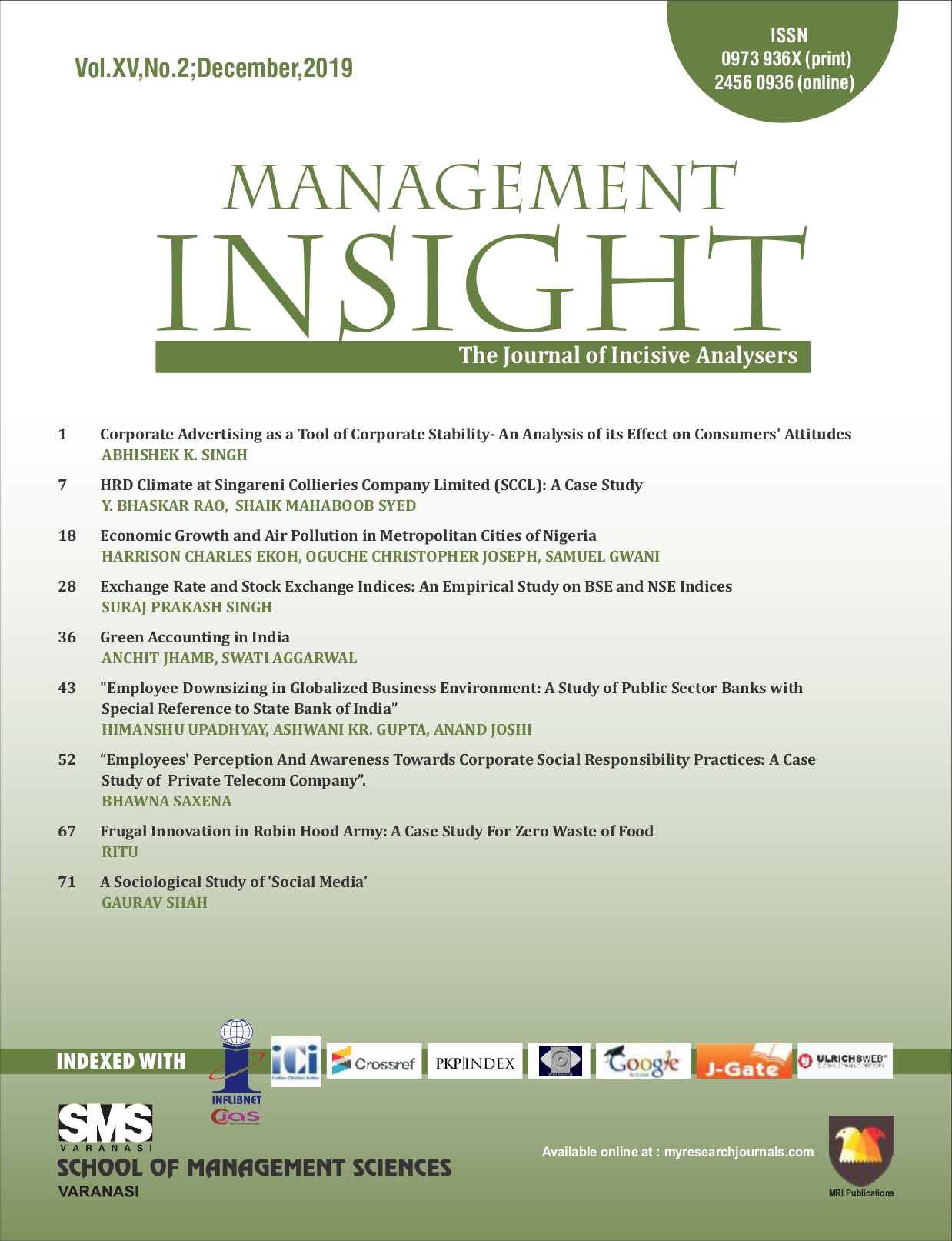 How to Cite
Bhawna Saxena. (2020). "Employees' Perception And Awareness Towards Corporate Social Responsibility Practices: A Case Study of Private Telecom Company". Management Insight, 15(2), 52-66. Retrieved from http://journals.smsvaranasi.com/index.php/managementinsight/article/view/391