DETERMINANTS OF JOB SATISFACTION IN THE INDIAN BIOTECHNOLOGY SECTOR : ISSUES AND INTERVENTIONS
Sundeep Sarin

Doctorate Research Scholar; Director/Scientist F, Department of Biotechnology, Ministry of Science and Technology, Government of India

Sharat Sharma

Head (I/C) Department of Management Studies, SRM University, NCR Campus, Modi Nagar (UP)
Keywords:
Job satisfaction, Indian biotechnology sector, Biotechnology, Organization, Employee satisfaction
Abstract
Job-satisfaction is deliberated as a key motivation factor for employees in most industries. According to
credible and established research, job satisfaction positively impacts the potential and performance of
these employees. Productivity of employees too has a considerable associationwith their satisfaction level
at work place. This study statistically and analytically examines the determinants of job satisfaction of
employees in the Indian biotechnology sector. It also analyses the impact of job satisfaction based on level
of management in the Indian biotechnology sector. Based on the findings, thisstudy provides insight on
determinants influencing job-satisfaction of employees, their preferences and also highlights key areas
for human resource professionals to study, in order to launch initiatives for organizational improvement
and overall development of employees. The respondents included 295 employees from the seven
companies in Indian biotechnology sector. The application of ANOVA and other statistical examination
revealed that overall job satisfaction among employees in the biotechnology sector in India has a
significant relation with the level of management. Besides evaluating the determinants of job satisfaction,
the statistics revealed that junior level management has a far more job satisfaction level compared to
middle and senior management in the Indian Biotechnology sector.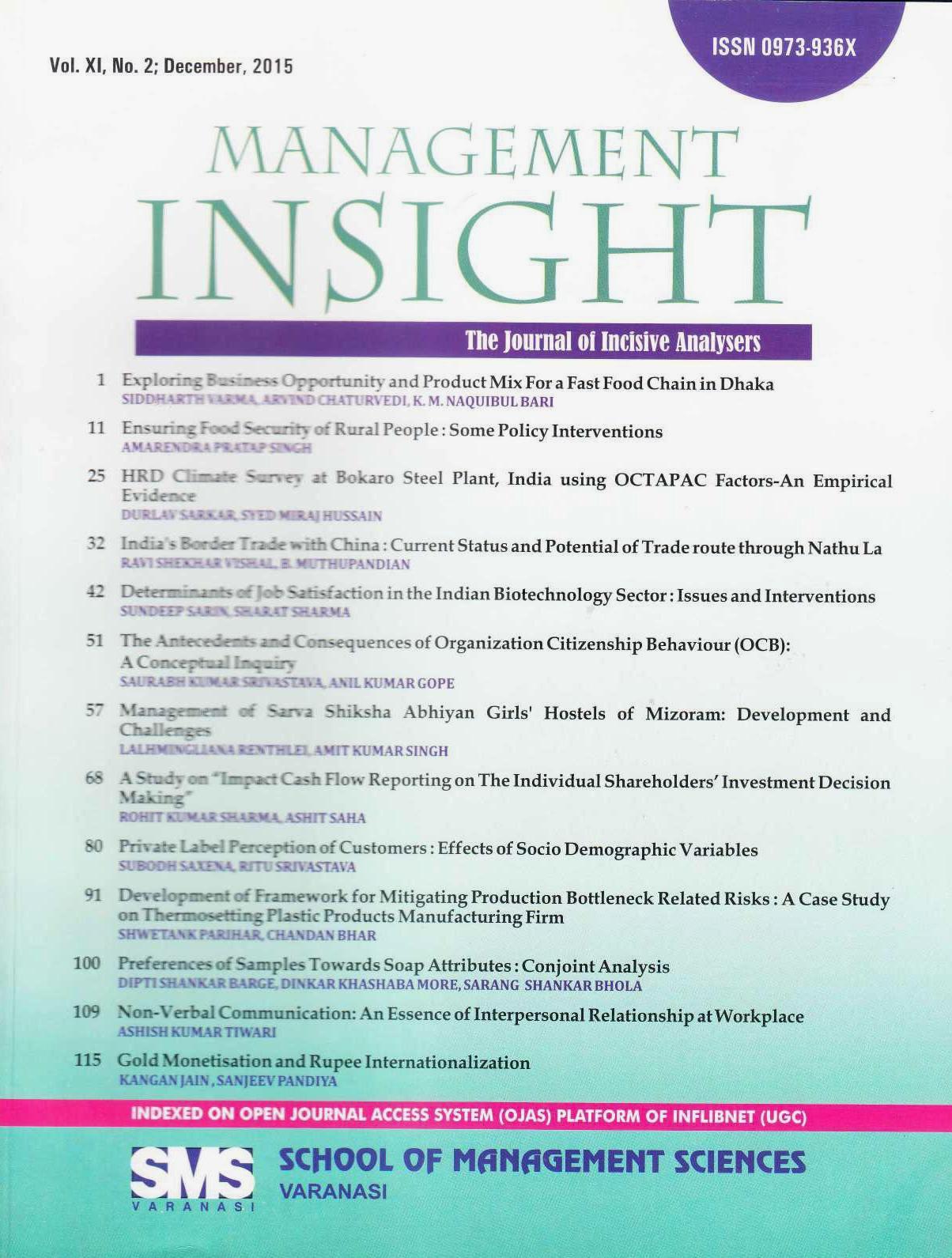 How to Cite
Sundeep Sarin, & Sharat Sharma. (2020). DETERMINANTS OF JOB SATISFACTION IN THE INDIAN BIOTECHNOLOGY SECTOR : ISSUES AND INTERVENTIONS. Management Insight, 11(2), 42-50. Retrieved from http://journals.smsvaranasi.com/index.php/managementinsight/article/view/424