A RESEARCH PAPER-PREFERENCES OF SAMPLES TOWARDS SOAP ATTRIBUTES : CONJOINT ANALYSIS
Dipti Shankar Barge

Assistant Professor, Gourishankar Institute of Management Sciences, Limb, Satara (Maharashtra)

Dinkar Khashaba More

Associate Professor, Arts and Commerce College, Ashta (Maharashtra)

Sarang Shankar Bhola

Associate Professor, Karmaveer Bhaurao Patil Institute of Management Studies and Research, Satara (Maharashtra)
Keywords:
Conjoint Analysis, socio economic class, fragrance,, ingredients,, Soap
Abstract
a product, through research experiment.The product attributes used as variables viz. percentage of
hydrogen (Ph), price, ingredients, and fragrances.The effort has been made through experimentation to
find out part utility samples have towards selectedfeatures of soap using conjoint analysis.The analysis
has approached using regression analysis. Dummy variables havebrought in use to define the attributes
and ranking were taken from select samples purposively from every socio economic class. Two experiments
were conducted with slight change in the combination of attributes to assess the change in preferences
of samples. The result of conjoint analysis reveals that, among all the socio economic classes highest utility
has been given to price followed by natural ingredients. Fragrances received highest utility among lowest
socio economic classes, viz., D1, D2 and E2.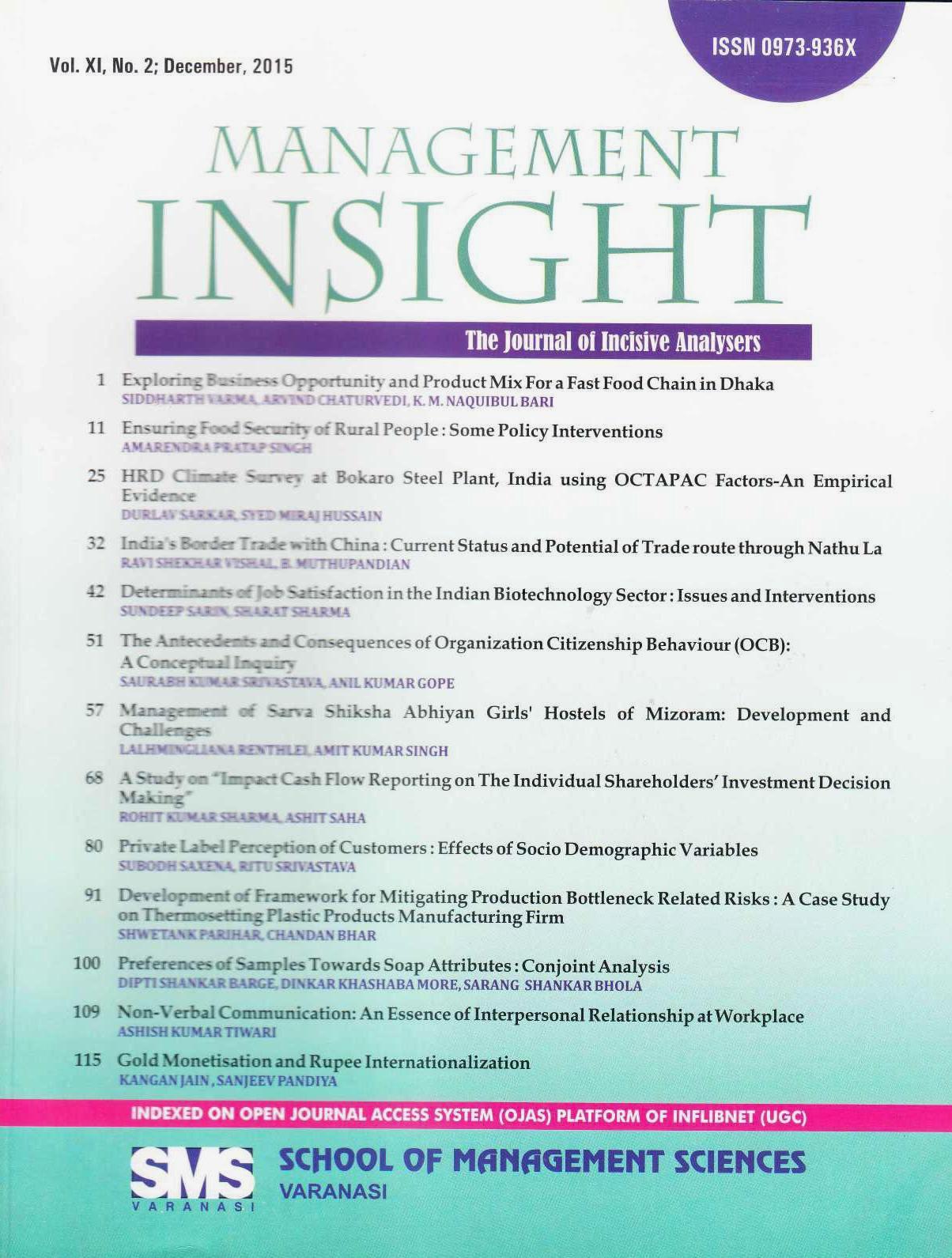 How to Cite
Dipti Shankar Barge, Dinkar Khashaba More, & Sarang Shankar Bhola. (2020). A RESEARCH PAPER-PREFERENCES OF SAMPLES TOWARDS SOAP ATTRIBUTES : CONJOINT ANALYSIS. Management Insight, 11(2), 100-108. Retrieved from http://journals.smsvaranasi.com/index.php/managementinsight/article/view/430