MONITORING AND EVALUATION OF CSR INTERVENTIONS : A STUDY OF CSR PROGRAMS IN GMR INDUSTRIES RAJAM SRIKAKULAM DISTRICT
B.Anil Prasad

Research Scholar, Department of Social Work, Andhra University, Visakhapatnam (AP)

Prof. R.D.Sampath Kumar

Director, Center for Study of Social Exclusion and Inclusive Policy, & Professor, Department of Social Work, Andhra University, Visakhapatnam (AP)
Keywords:
CSR, Evaluation, Monitoring
Abstract
Monitoring and Evaluation (M&E) can provide unique information about the performance of organizations policies,
programs and projects. It endows with the information about the performance of managers and their staff. In the present
epoch, the monitoring and evaluation had become fundamental for any organization: be it service or business. M&E can
be useful in many ways in Corporate Social interventions. It helps the business houses to understand the ground realities
and beneficiaries role in the CSR interventions and analyze and review performance about business houses. Moreover,
the M&E can direct the management to reduce the gaps and corrupt practices at different levels. Through administration
the M&E significant changes in the lives of the stakeholders can be found. Monitoring and evaluation systems can be
applied to both individual projects and multi-component interventions being implemented by the industries or
corporations.
The present study is taken up to find out the nature, type and the process of implementation of CSR projects and to
analyze the levels of peoples engagement, besides its impact. The data were collected from a quota sample of 50 each from
four operational villages of GMR foundation, which comprises of 200 respondents, and 50 sample from employees of
GMR Sugar Industry and 10 professionals of GMR Varalakshmi Foundation.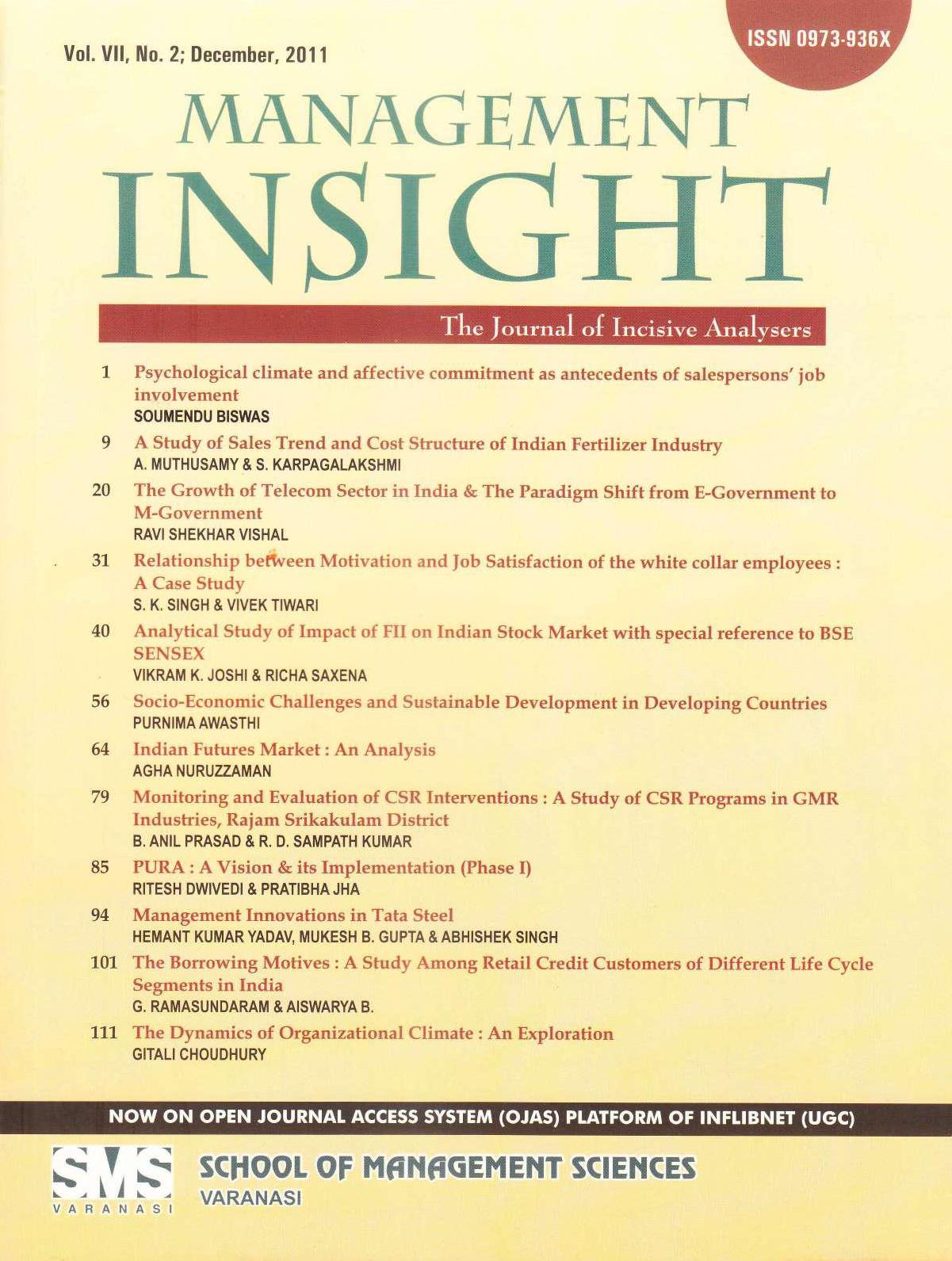 How to Cite
B.Anil Prasad, & Prof. R.D.Sampath Kumar. (2020). MONITORING AND EVALUATION OF CSR INTERVENTIONS : A STUDY OF CSR PROGRAMS IN GMR INDUSTRIES RAJAM SRIKAKULAM DISTRICT. Management Insight, 7(2), 79-84. Retrieved from http://journals.smsvaranasi.com/index.php/managementinsight/article/view/513