WOMEN EMPOWERMENT THROUGH SHIP- 'AN EXPLORATION'
F.B. Singh

Professor, Faculty of Commerce, Banaras Hindu University, Varanasi (Uttar Pradesh)

Pooja Jha

ICSSR Doctoral Fellow, Banaras Hindu University, Varanasi (Uttar Pradesh)
Keywords:
Women empowerment, SHG, Rural Entrepreneurship development, Government initiatives
Abstract
The women empowerment is considered as a sine-quo-nonfor the all-inclusive development of the rural economies as a whole so the issue witnessed a principal significance in the eyes of social scientist, economic reformer, and the policy maker. The term empowerment has different meanings depending
on the socio-economic, political and cultural context in which it is presented. Overall empowerment can be perceived as a process or as outcome/goal and can take place at different levels.Rural women entrepreneurship plays a catalytic role in activating the factors of production leading to an overall economic development in India, but it is still on the embryonic stage as this untapped source of the country has not been harnessed appropriately.The present paper intends to establish a correlation between women empowerment and rural entrepreneurship development. It further tries to recognize the various strategies, initiatives and institutive policies of the government and social reformer which would create a conducive ambience in fostering the culture of innovation and rural entrepreneurship development in the country for the economic empowerment of the women. Besides the above the paper also aims at deliberating some imperative aspects of women economicempowerment through SHG, and micro entrepreneurship development. Thenature of study is basically  exploratory and based on prevailing unpublished and published secondary sources. The study concludes with a diversified range of recommendations and feasible suggestions from the various corners which would encourage a more enabling environment for women's entrepreneurship in India.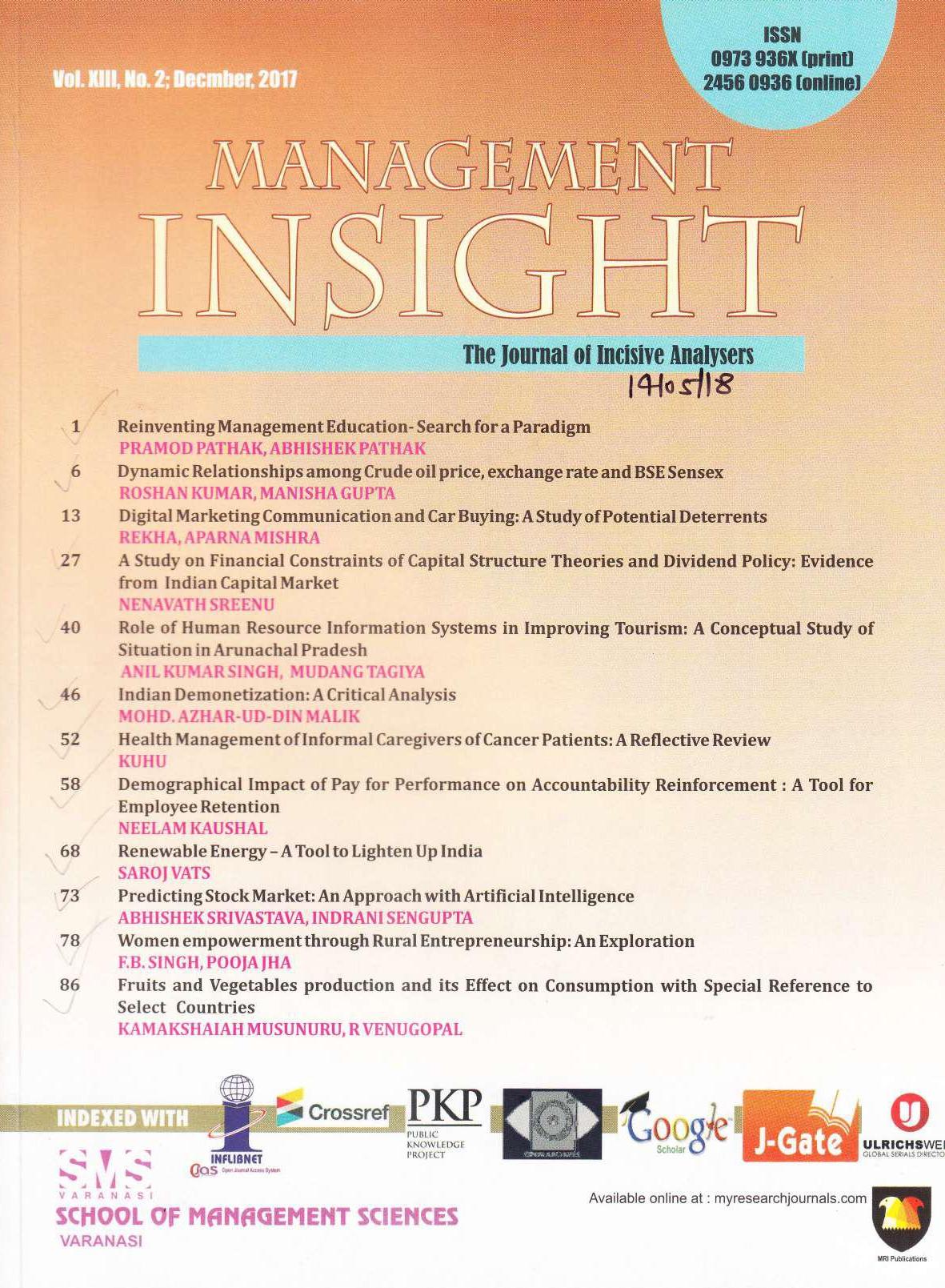 How to Cite
F.B. Singh, & Pooja Jha. (2020). WOMEN EMPOWERMENT THROUGH SHIP- 'AN EXPLORATION'. Management Insight, 13(2), 78-85. Retrieved from https://journals.smsvaranasi.com/index.php/managementinsight/article/view/116