Awareness and Utilization of Free Trade Agreements amongst the Textile and Clothing Export Firms of India
Parul Bajaj

BIMTECH, Greater Noida, India

Anuj Sharma

BIMTECH, Greater Noida, India
Keywords:
Free Trade Agreements, Utilization, Awareness, Firm Size, Regression, Chi square, Exporter, Textile and Clothing, SME
Abstract
Today, India is witnessing the signing and negotiating of several trade agreements. It is also fast tracking these deals with several nations. In this context of India's policy of regionalism and its revamped foreign strategy, it is pertinent to understand the stand of the business community towards these. The study is an attempt to draw a relationship between the awareness and utilization of trade agreements and firm level characteristics. The final sample size in the present research consisted of 310 exporting firms from major textile and clothing hubs of India. The results from the survey point that the awareness level of free trade agreements for the exporting firms is highly dependent on the size of the firm and exports as a percentage of firms' revenue. The larger firms in the study were more likely to be aware of trade agreements. The utilization rate for trade agreement was also significant for the size of the firm, and diversified markets. Association although weak was observed for the strength of employees and the years of establishment of the exporting firm in utilization of the FTAs. Thus, our conclusion is that smaller companies were less likely to make use of trade agreements. Few policy suggestions to make the awareness and utilization levels of FTAs higher for the small sized exporting firms are given. This will aid in making FTAs a level playing field and bring it into the arena of international trade.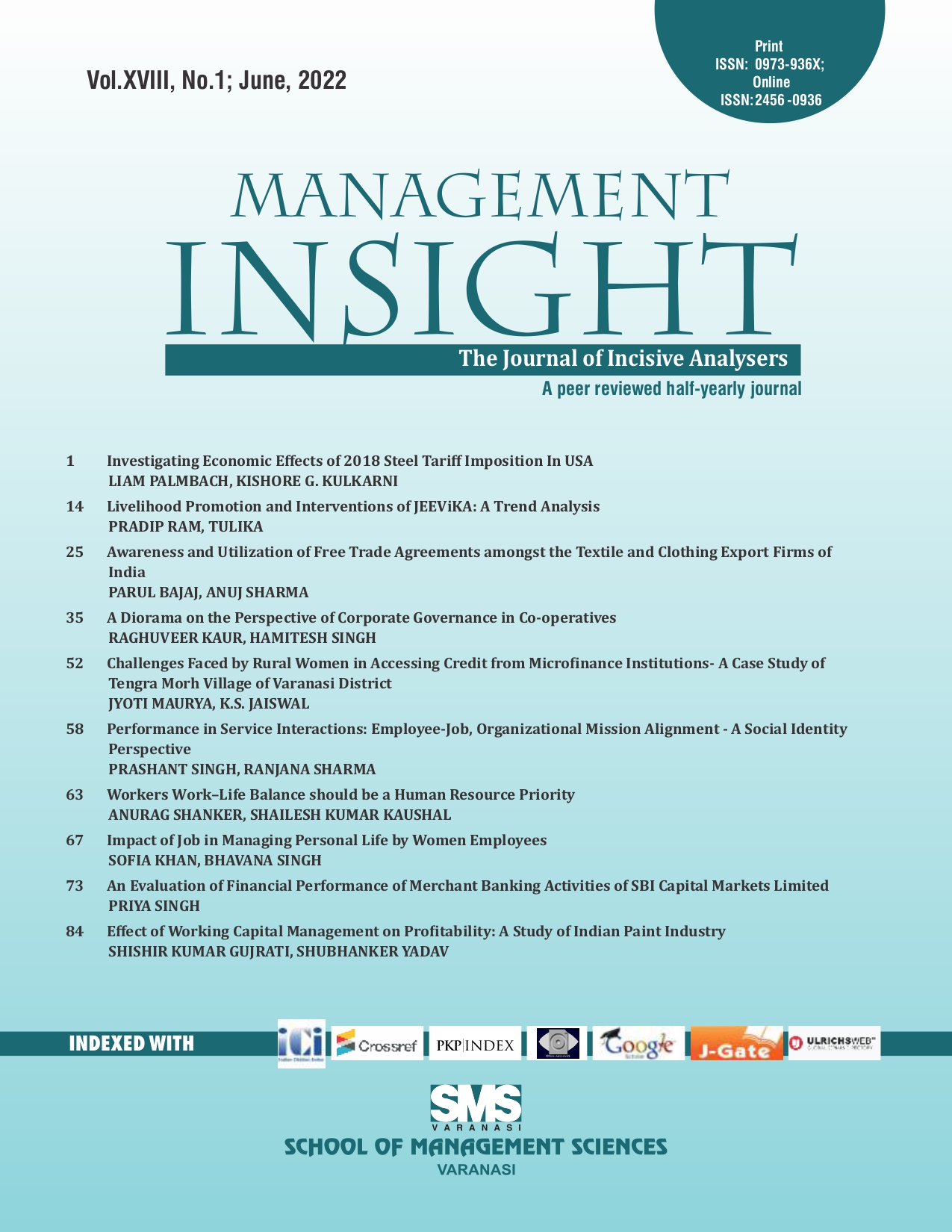 How to Cite
Parul Bajaj, & Anuj Sharma. (2022). Awareness and Utilization of Free Trade Agreements amongst the Textile and Clothing Export Firms of India. Management Insight, 18(01), 25-34. Retrieved from https://journals.smsvaranasi.com/index.php/managementinsight/article/view/1223
Copyright (c) 2022 Management Insight
This work is licensed under a Creative Commons Attribution 4.0 International License.