EXPLORING THE RELATIONSHIP BETWEEN JOB COMMITMENT AND JOB SATISFACTION THROUGH A REVIEW OF LITERATURE
Babulal Rajak

Deputy Registrar (IIT Kharagpur) and Research Scholar, IIT (ISM) Dhanbad (Jharkhand)

Mrinalini Pandey

Assistant Professor, Department of Mnanagement Studies, IIT (ISM) Dhanbad (Jharkhand)
Keywords:
Job Satisfaction, Job Commitment
Abstract
The primary motivation behind the review was to examine the interrelation between job commitment and job satisfaction of individuals in higher education institutions and its effect on their performance. This study focuses on various theories related to job commitment and job satisfaction. Keeping in mind
the end goal to have better standard of life and to satisfy one's needs, one has to work with satisfaction as it brings about development not only for the employees but also enhances the productivity and service to the institution consequently it increases the commitment to the institution. Following are
the research objectives for this study (1) To look at the interrelation between job commitment and job satisfaction among the employee of an institution of higher education (2) To examine the effect of employee on job satisfaction and job commitment due to their biographical characteristics (3) To examine the significant way to motivate employee in order to boost the job satisfaction. The result showed that there exists a critical connection between job commitment and employment fulfillment of a person. The study highlights that the higher the level of motivation the greater the enhancement of satisfaction and commitment of the employees towards their institution.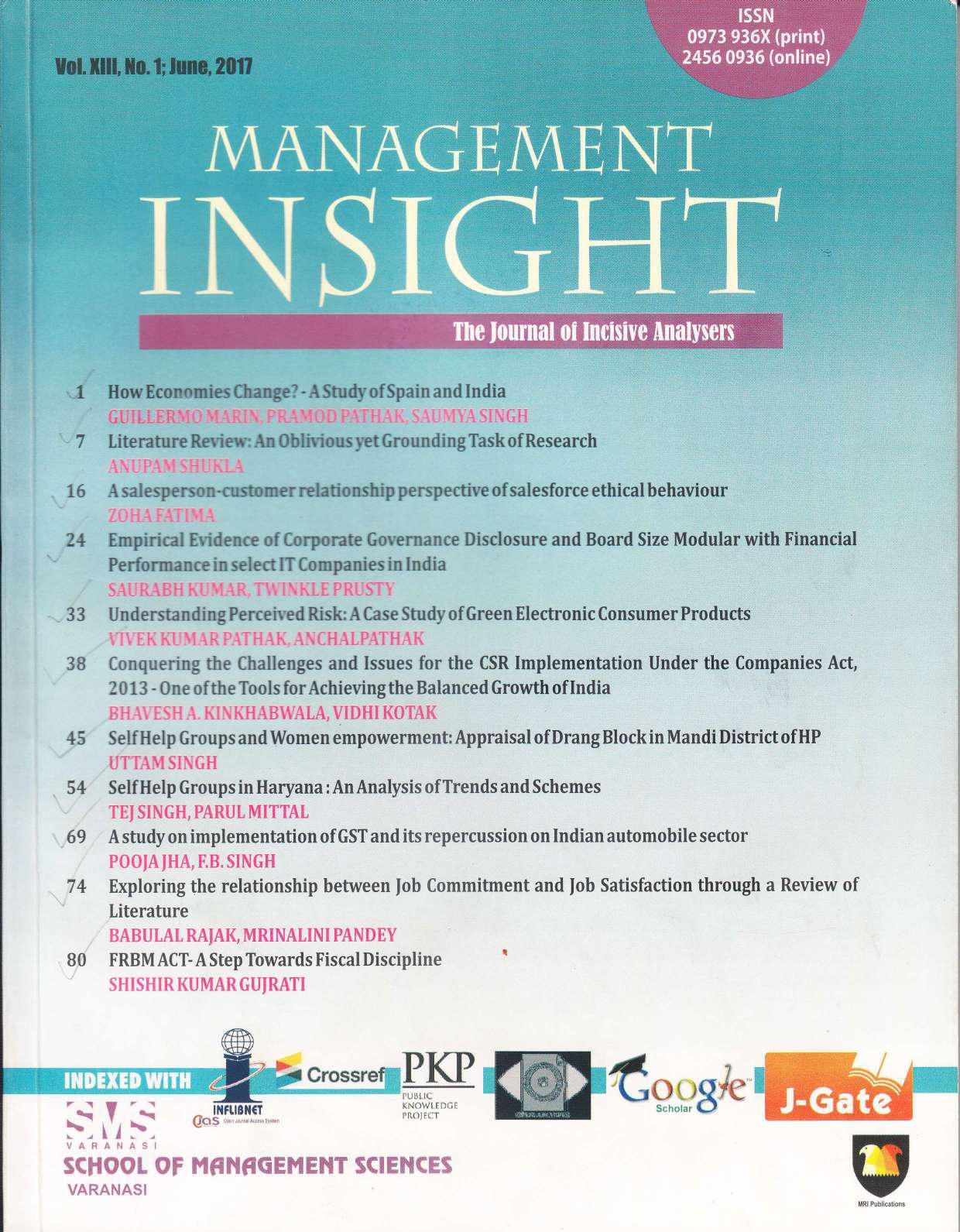 How to Cite
Babulal Rajak, & Mrinalini Pandey. (2020). EXPLORING THE RELATIONSHIP BETWEEN JOB COMMITMENT AND JOB SATISFACTION THROUGH A REVIEW OF LITERATURE. Management Insight, 13(1), 74-79. Retrieved from https://journals.smsvaranasi.com/index.php/managementinsight/article/view/127