A Comparative Study on Preference of Investors In Mutual Fund And Stock Market Directly
Pratibha Sharma

Department of Commerce, Mahatma Gandhi Kashi Vidyapith, Varanasi

Brijesh K. Jaiswal

Faculty of Commerce, Harish Chandra P.G College, Varanasi
Keywords:
Equity, Mutual Fund, Stock Market, Investors, preference
Abstract
Do I possess enough to meet the ever-expanding needs of the family? This is quite a common concern these days. Along these lines, it's high time one must save shrewdly through the different ways of investment. The opportunity has arrived to look at venture avenues, which can beat expansion and assist our cash with filling further to meet our future needs. Interests in different structures will empower us to meet expansion and ensure our buying power alongside supporting us to produce a supported pay post-retirement. One of the accessible speculation roads is interest in the stock market. It has been genuinely demonstrated in numerous markets, including our own that over the long run, value outflanks most resource classes. It assists with considering hazards a chance. "Nothing wandered, nothing acquired" applies similarly as a lot to the stock market as to different parts of life. Both the stock market and mutual assets are yet to arrive at their pinnacle level. There is as yet an absence of information about Mutual assets and the Stock market among most of market players. A serious level of instability in the new occasions in the Indian market has prompted the advancement of Mutual assets. Today investors favor more Mutual assets to go into the stock market rather than put straightforwardly in the stock market. The objective of this investigation is to discover and dissect which is a more fulfilled speculation instrument with a direct interest in the value market or contributing through mutual assets based on various boundaries like danger, returns, cost, and so forth. The examination would work with the perusers to know the future possibilities of mutual assets and the stock market.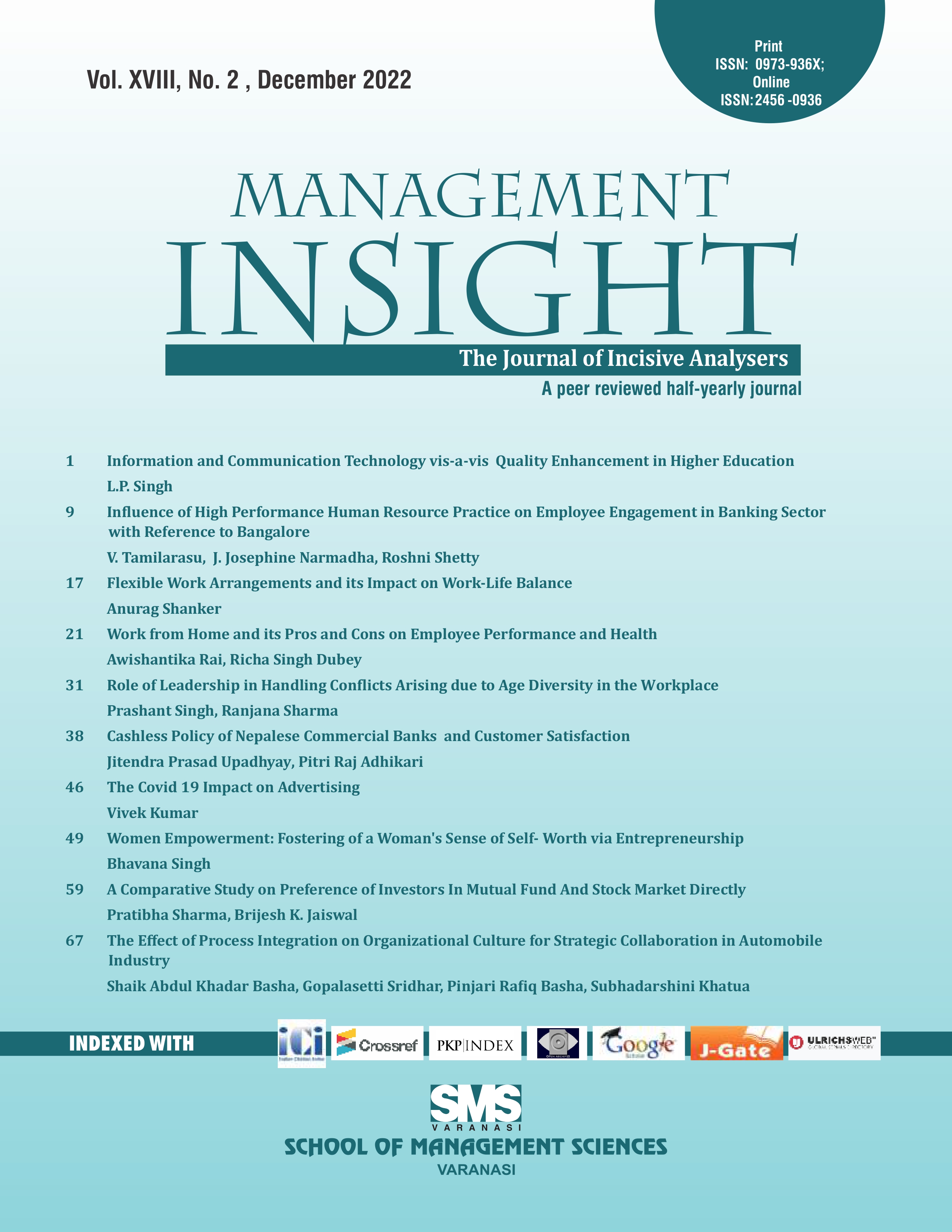 How to Cite
Pratibha Sharma, & Brijesh K. Jaiswal. (2022). A Comparative Study on Preference of Investors In Mutual Fund And Stock Market Directly. Management Insight, 18(2), 59-66. Retrieved from https://journals.smsvaranasi.com/index.php/managementinsight/article/view/1625
Copyright (c) 2022 Management Insight
This work is licensed under a Creative Commons Attribution 4.0 International License.