INFLUENCE OF CELEBRITY ENDORSEMENT IN RURAL MARKETS : A STUDY WITH REFERENCE TO THIRUNELLI PANCHAYAT IN WAYANAD IN KERALA
Hari Sundar G. Ram

Faculty, D.J.Academy for Managerial Excellence, Coimbatore, Tamil Nadu

D. Sudharani Ravindran

Assistant Professor, PSG Institute of Management, Coimbatore, Tamil Nadu

M. Satish

Faculty, PSG Institute of Management, Coimbatore, Tamil Nadu
Keywords:
CELEBRITY ENDORSEMENT, RURAL MARKETS
Abstract
Rural India is the buzzword and Eldorado for marketers. Organizations are shifting their focus towards this huge and largely untapped market. Rural India, (Ernst and Young) reports 600,000 plus villages spread over a geographical area of over 3.2 million square kilometers, with a 60% of the
country's overall consumption amounting to Rs.9.135 lakh crore ($228 billion). Mckinsey recently surveyed rural India for Bharat Nirman project and concluded that rural India's market size in 2020 would be US $ 500 billion. Even by 2025, 63% of India's population will still live in rural areas of
India (Mckinsey). The problem for marketers lies in reaching out to this huge magnitude of the rural masses with varied social, cultural backgrounds speaking a few hundred dialects. In rural market, the influence of Celebrity endorsement in decision making and purchasing the product is remarkable. Celebrity is a person who can attract people by mere presence and words (Kotler 2002). In India influence of films stars and sports personalities especially cricketer are phenomenon. Kerala, the literate state of India may not be falling behind in the influence of celebrity
endorsement in purchasing products The study envisages to find out the influence of celebrity endorsement in purchase of consumer durable goods in rural Kerala. The village chosen is Thirunelli Grama Panchayath, Wayanad District, Kerala from where the samples were taken. The profile of the respondents were small and medium coffee planters residing in Thirunelli Gramapanchayath at Wayanad district selected at random. The
data was collected through pretested questionnaire. The collected data were analyzed by using Statistical software such as SPSS. The tool Chi-square test was employed for studying the hypothesis.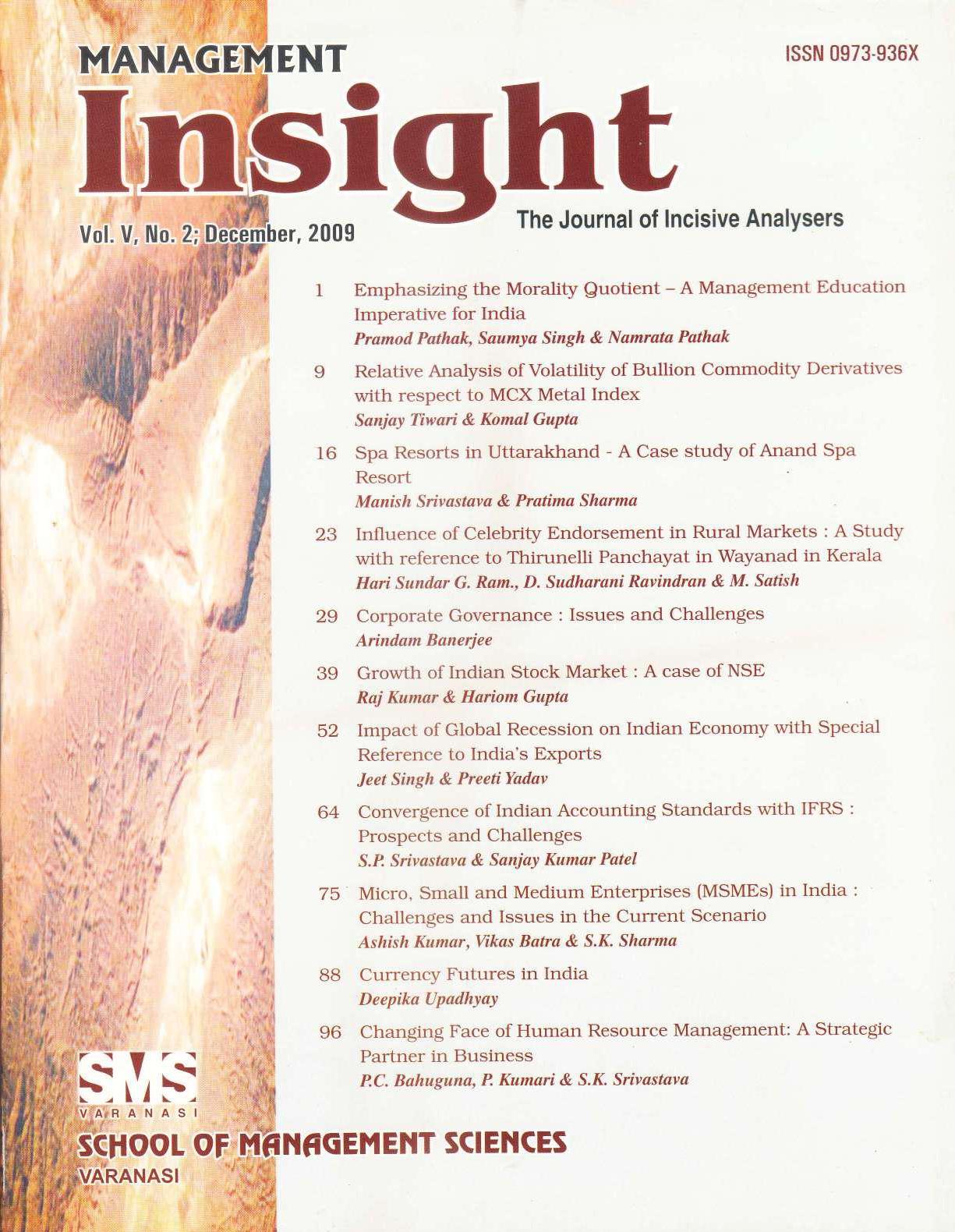 How to Cite
Hari Sundar G. Ram, D. Sudharani Ravindran, & M. Satish. (2020). INFLUENCE OF CELEBRITY ENDORSEMENT IN RURAL MARKETS : A STUDY WITH REFERENCE TO THIRUNELLI PANCHAYAT IN WAYANAD IN KERALA. Management Insight, 5(2), 23-28. Retrieved from https://journals.smsvaranasi.com/index.php/managementinsight/article/view/323