CURRENCY FUTURES IN INDIA
Deepika Upadhyay

Research Scholar, Faculty of Commerce, Banaras Hindu University, Varanasi, Uttar Pradesh
Keywords:
CURRENCY FUTURES, SEBI
Abstract
An important milestone of Indian financial markets was reached on August 29, 2008, when the National Stock Exchange (NSE) launched currency futures for the first time in the country. The step was taken forward by the Reserve Bank of India (RBI) and Securities and Exchange Board of India
(SEBI) jointly allowing USDINR currency futures in stock exchanges, albeit with some restrictions. Currency futures are derivatives that allow investors to buy or sell a currency on a future date at a previously fixed price. According to market analysts, introduction of currency futures in the Indian market will give companies as well as individuals greater flexibility in hedging their underlying currency exposure and will impart greater transparency and liquidity to the market. According to the guidelines issued by the Central Bank, currently only USDINR future contracts with a size of $1,000 each are available for trading and each contract will have contracts up to 12 month maturity period. The contracts will be quoted and settled in the local currency. FIIs and NRIs will not be allowed to trade directly, but this is expected to change once the local market has reached a
maturity level. Based on the performance of the USDINR future contract, the RBI may also decide to permit currency futures contracts on other currencies like Pound, Yen and Euro. The objective of this paper is to discuss the regulations that apply to the currency futures market in India. It outlines the applications of currency futures and studies the performance of the USDINR future contract at the NSE since its inception. In addition to this, some suggestions to attract more participants into this market have been discussed.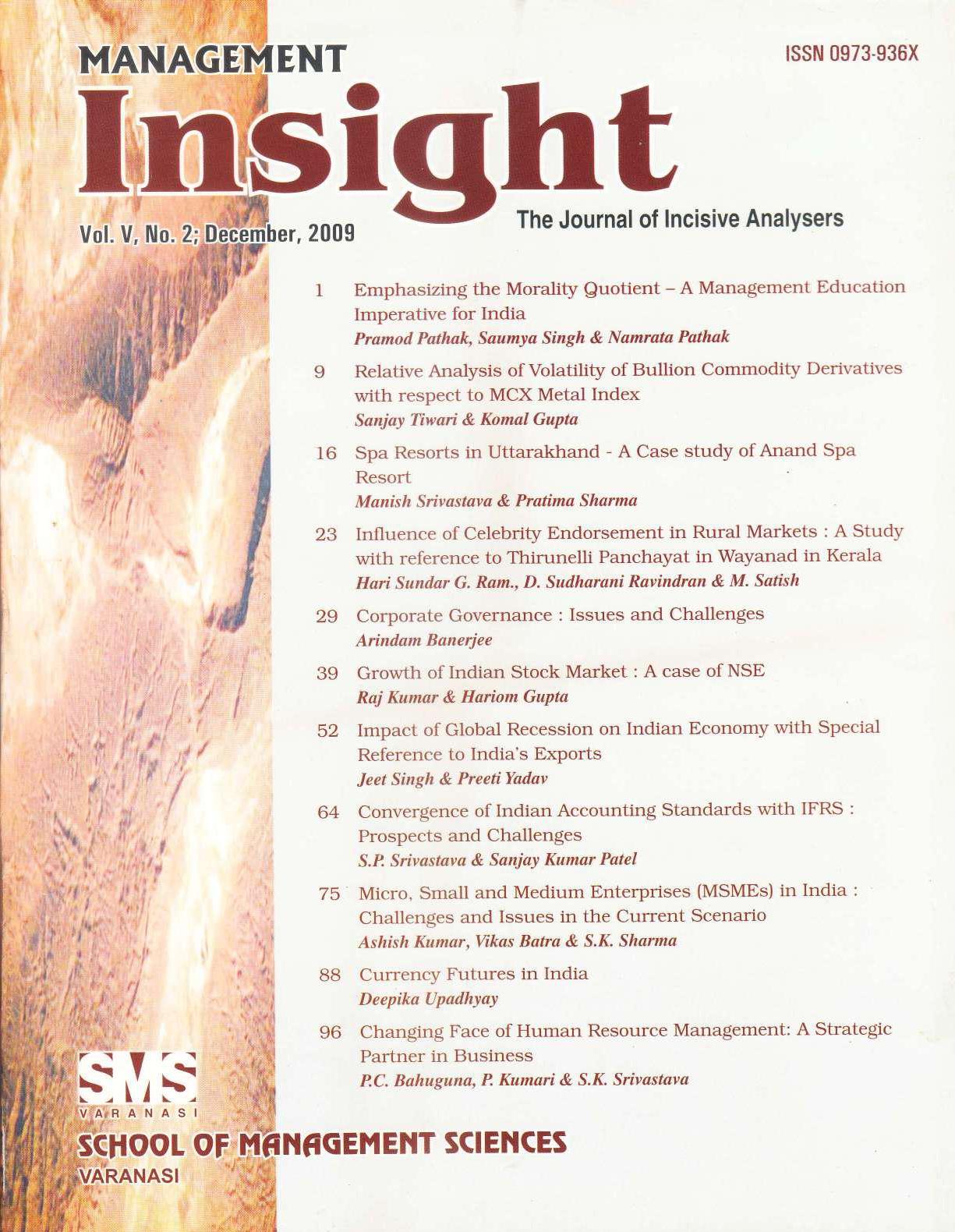 How to Cite
Deepika Upadhyay. (2020). CURRENCY FUTURES IN INDIA. Management Insight, 5(2), 88-95. Retrieved from https://journals.smsvaranasi.com/index.php/managementinsight/article/view/330