DIMENSIONS AFFECTING DIVERSITY MANAGEMENT : A RESEARCH STUDY OF ORGANIZATIONAL MANAGERS IN IT AND NON IT MNC'S OF BANGALORE
Namrata Kapur

Research Scholar, Dept of management studies ,MSRIT , Bangalore

B Janakiram

Dr B Janakiram, Professor , Dept of mangement studies , NITTE Meenakshi institute of technology , Bangalore
Keywords:
Diversity, dimensions, MNC, Management, organizational leaders, Inclusivity
Abstract
The greatest challenge of the 21 st century for multinational organizations is the effective management of it's diverse workforce. Demographic changes in workforce composition and customers combined with multicultural workplace congregations have made India to rank in the top globalized markets .This necessiates the increasing amount of diversity the Indian organizations must manage, both internally and externally. This is a descriptive and quantitative research carried out in the IT and non IT cos of India to study the various dimensions of diversity and how the various dimensions viz. Gender, Age, marital status , Education, department, experience, grade level and ethnicity affect the diversity environment in organisations.. A stratified random sampling technique was employed in the present research and the study population consisted of indigenous organizational managers mostly from MNC IT and non IT who engage in leading and managing diverse teams in India .and the results were interpreted using SPSS statistical techniques. The findings highlight that whilst Age, marital status, position, ethnicity and experience have significant correlation with Diversity orientation the gender Education, department, and grade have minimal.
Furthermore, it was found that out of the 7 parameters measuring the diversity orientation the Diversity strength, diversity initiatives and diversity popularization were considered as the significant parameters being influenced by these above dimensions while diversity vision and it's business advantage was considered of minimal significance. The. gender (Male/Female), Department (IT/nonIT), Educational level (Engineer/ non Engineer),Position (Manager/ Lead)were greatest common influencers and key dimensions of diversity.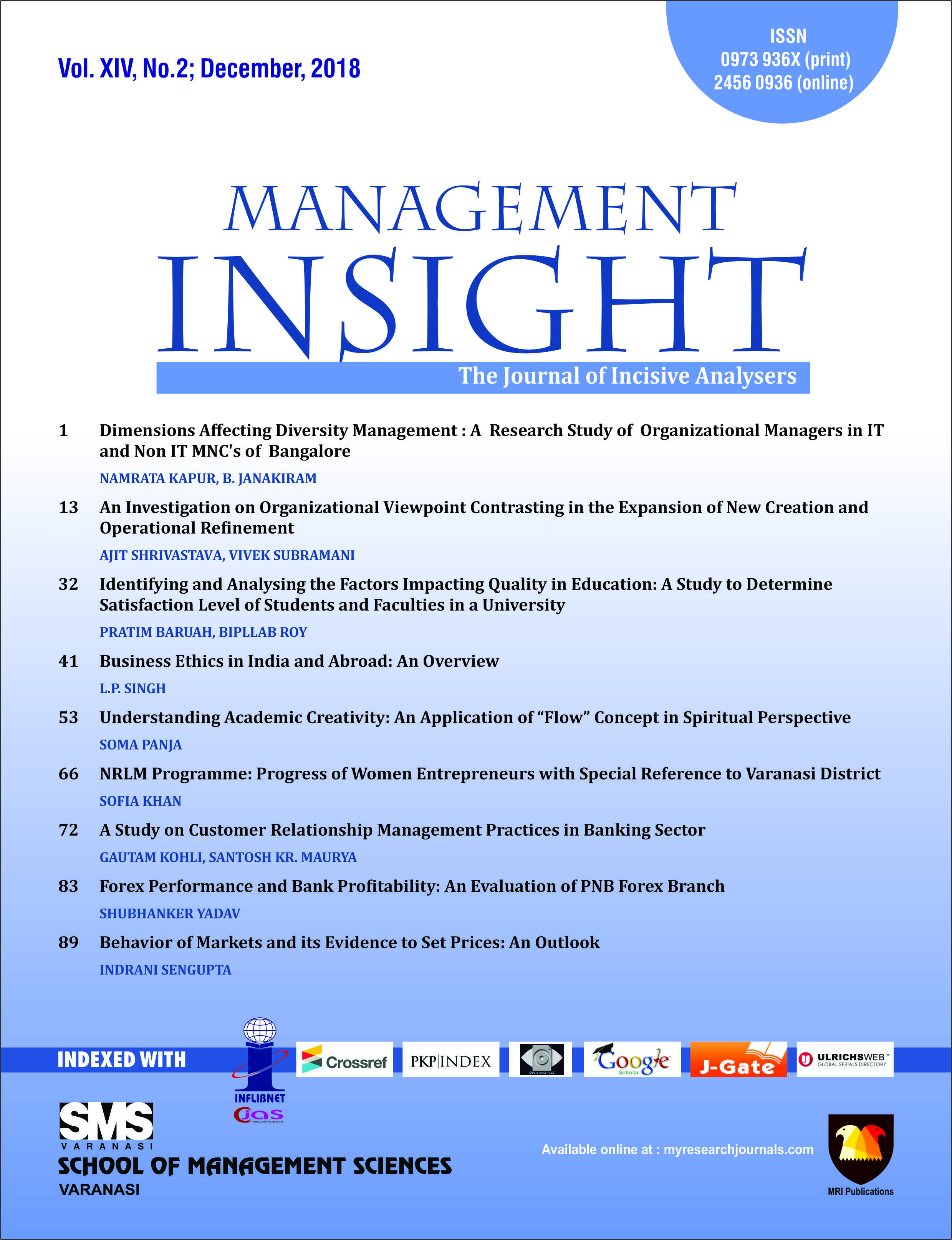 How to Cite
Namrata Kapur, & B Janakiram. (2020). DIMENSIONS AFFECTING DIVERSITY MANAGEMENT : A RESEARCH STUDY OF ORGANIZATIONAL MANAGERS IN IT AND NON IT MNC'S OF BANGALORE. Management Insight, 14(2), 1-12. Retrieved from https://journals.smsvaranasi.com/index.php/managementinsight/article/view/362