POVERTY REDUCTION MEASURES AND ITS EFFECTIVENESS POST-INDEPENDENCE: A CRITICAL ANALYSIS
Amit Agrawal

Assistant Professor(Commerce), Government Girls Degree College, Saharanpur (UP)

Abhishek Kumar Singh

Research Scholar, Faculty of Commerce, Banaras Hindu University, Varanasi (UP)
Keywords:
New India by 2022, Poverty Eradication plans and programmes
Abstract
Economic development is not the main objective of economic policies. It is importance to ensure that the benefits of development accrue to all levels of the needle societies. NITI Aayog has said in its latest document vision and the GOI is endeavoring to make a 'New India' by 2022 which will be free from poverty, communalism, casteism, corruption, and terrorism. Under PMAGY should attain all model villages selected status by 2022; it says adding that we should resolve to have Poverty Free India by 2022. Eradication of poverty is an important task. Human beings want a certain minimum consumption of foods and non-foods items to survive in life. This paper begins with a review of poverty anddiscussing the causes of poverty. This paper identifies uncertainty in income of sources, low level of income, unemployment, unskilled, lack of vocational and skill education/tanning, corruption, geographical factors, ineffective urban and rural local bodies, instability in politics and GOI rule and policies as the result of poverty. Scholars are identify some suggestions or recommendations to eradicate poverty
based on the causes discussed and document to New India by 2022 (NITI Aayog).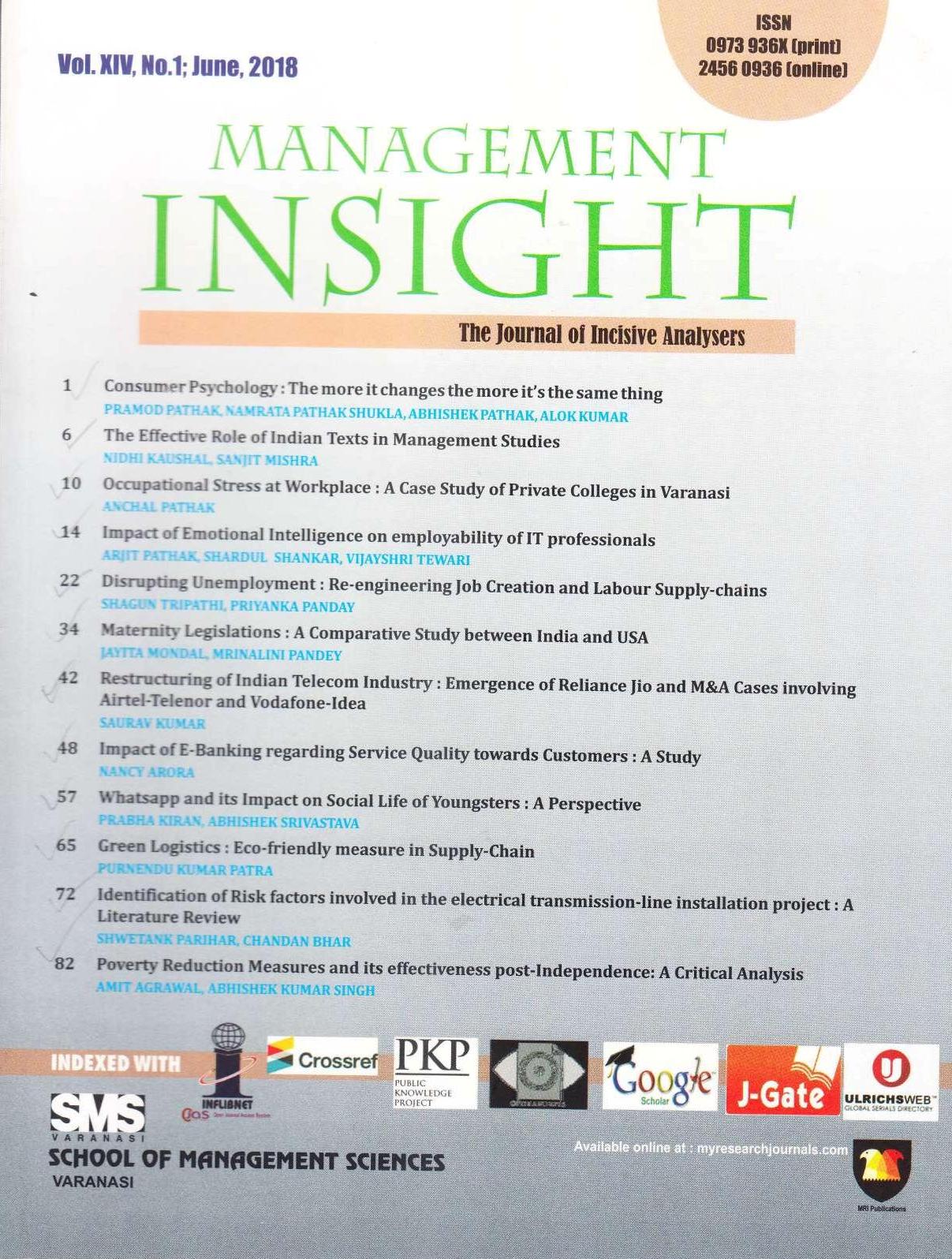 How to Cite
Amit Agrawal, & Abhishek Kumar Singh. (2020). POVERTY REDUCTION MEASURES AND ITS EFFECTIVENESS POST-INDEPENDENCE: A CRITICAL ANALYSIS. Management Insight, 14(1), 82-87. Retrieved from https://journals.smsvaranasi.com/index.php/managementinsight/article/view/382