IMPACT OF DOMESTIC GOLD PRICES ON INDIAN STOCK MARKET INDICES WITH SPECIAL REFERENCE TO GLOBAL FINANCIAL CRISIS - AN EMPIRICAL STUDY
P. Hemavathy

Doctorate Research Scholar (JRF), Department of Commerce, University of Madras, Chennai (Tamil Nadu)

S. Gurusamy

Professor and Head, Department of Commerce, University of Madras, Chennai (Tamil Nadu)
Keywords:
Gold Prices, ADF Unit Root Test, Stock Market Indices, Indian Stock Market, Financial Crisis
Abstract
The study investigates the impact of domestic gold price on Indian stock market indices during the Pre and Post Global
financial crisis era for the period from April 1999 to March 2013 using appropriate descriptive statistics and econometric
analysis such as Augmented Dickey Fuller Unit Root Test and Linear Regression model. The domestic gold price in
India is perpetually escalating in corollary of its passionate domestic demand on account of liquidity, protection and
spreader portfolio. Indian households vacillate to consider the capital market as a viable asset class for parking their
savings. When the stock market dishevels or when the dollar aggravates, gold protracts to act as a safe haven investment.
Households persistently and predominantly invest in their quintessential favorite "Gold", which has the character of
splendid at trouncing inflation. Rupee depreciation has caused gold prices in India to ascend appreciably and to hit
high record. The study is based on secondary data obtained from World Gold Council database and NSE database.
ADF Unit root test indicates that the selected time series are stationary at 1st difference. Linear Regression Methodology
was employed to examine the impact of Domestic gold price on Indian Stock market indices during pre and post Global
financial crisis era. More explicitly, the study concludes that the Global financial crisis has refocused investors' attention
to safe haven assets such as gold and the equity markets have experienced hectic inconsistency. Domestic gold price
continues to rule high. Gold effortlessly crushes most other investment options especially in equities in the aftermath
Global Financial crisis.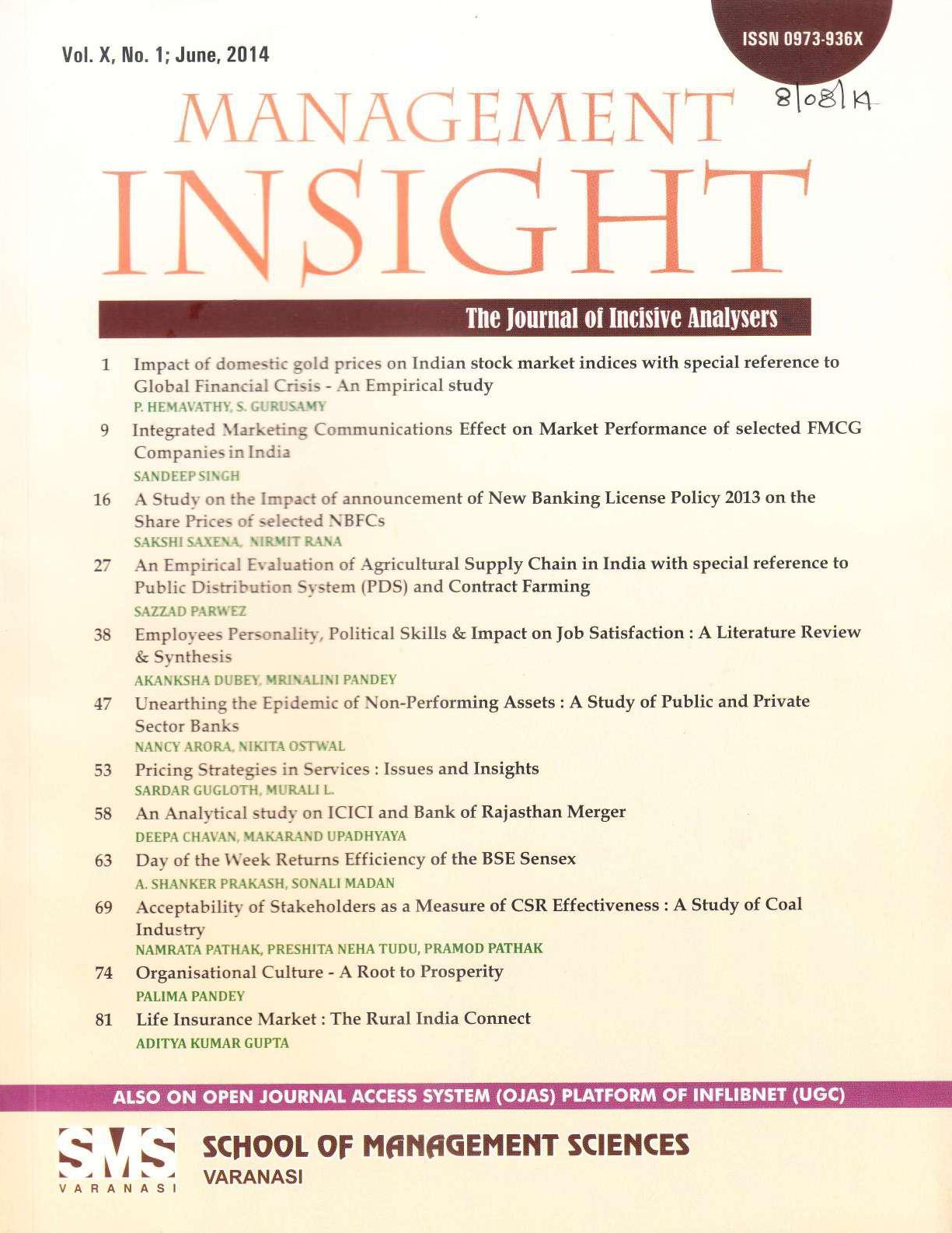 How to Cite
P. Hemavathy, & S. Gurusamy. (2020). IMPACT OF DOMESTIC GOLD PRICES ON INDIAN STOCK MARKET INDICES WITH SPECIAL REFERENCE TO GLOBAL FINANCIAL CRISIS - AN EMPIRICAL STUDY. Management Insight, 10(1), 1-8. Retrieved from https://journals.smsvaranasi.com/index.php/managementinsight/article/view/433