EMPLOYEES PERSONALITY, POLITICAL SKILLS & IMPACT ON JOB SATISFACTION : A LITERATURE REVIEW & SYNTHESIS
Akanksha Dubey

Research Scholar, Department of Management Studies, Indian School of Mines, Dhanbad (Jharkhand)

Mrinalini Pandey

Assistant Professor, Department of Management Studies, Indian School of Mines, Dhanbad (Jharkhand)
Keywords:
Personality, political skills, job performance, job satisfaction
Abstract
A satisfied workforce is an asset to any organization which can be used as a competitive advantage. In this research
paper an attempt has been made to understand micro-political aspects of organizational politics focusing on interactional
effects of individual's personality and political skills which affects job satisfaction. While Personality of an individual
consists of combination of characteristics and qualities that forms individuals characters, on the other hand Political
skill is ability of the person to adjust his behavior in accordance with the situation in the way that he is able to influence
others. Drawing the variables after extensive review of literature a conceptual model is made which tries to establish
the relationship between different personalities, political skill and job satisfaction. In this research work it is evident
that combined effects of personality and political skills leads to job satisfaction.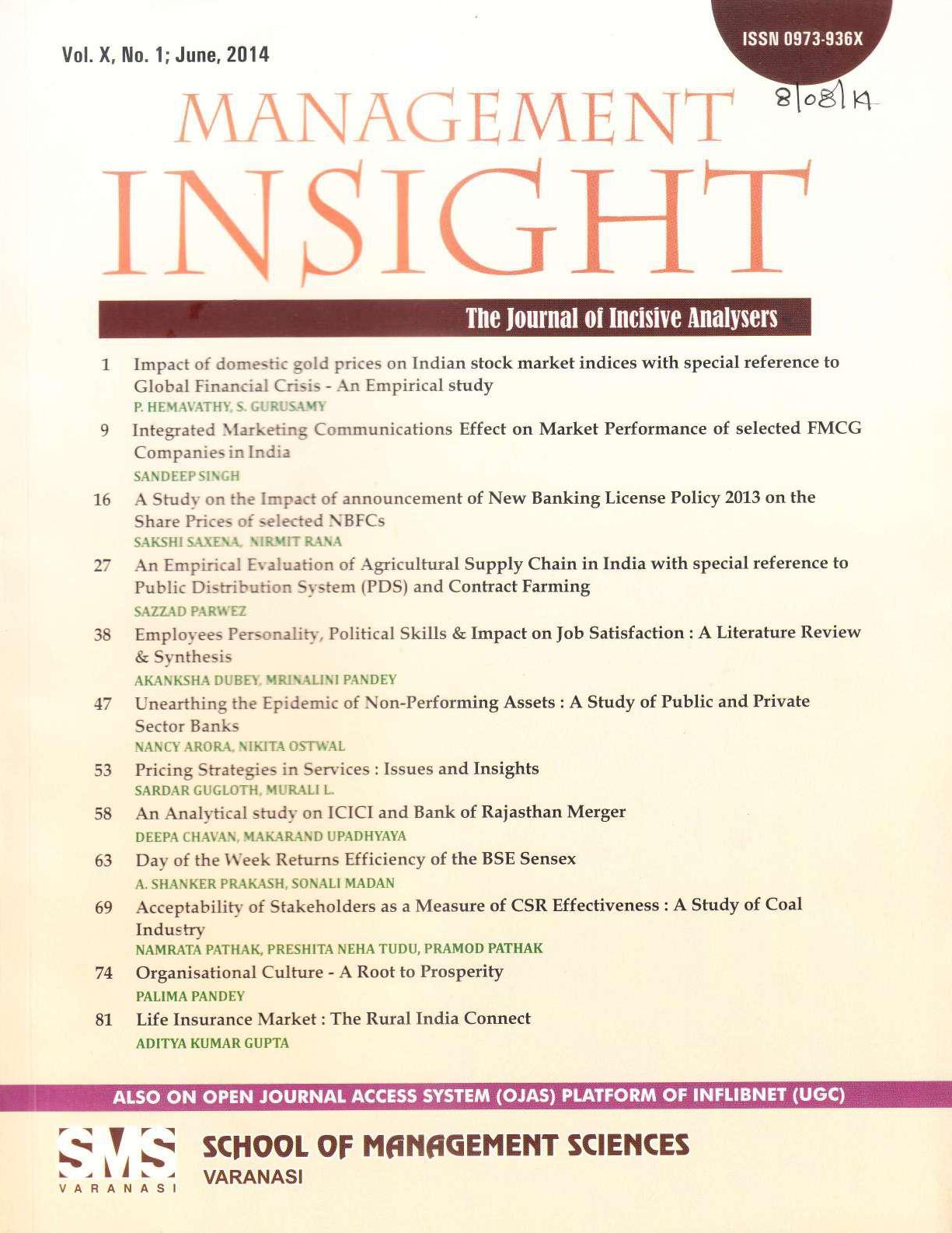 How to Cite
Akanksha Dubey, & Mrinalini Pandey. (2020). EMPLOYEES PERSONALITY, POLITICAL SKILLS & IMPACT ON JOB SATISFACTION : A LITERATURE REVIEW & SYNTHESIS. Management Insight, 10(1), 38-46. Retrieved from https://journals.smsvaranasi.com/index.php/managementinsight/article/view/437