PRICING STRATEGIES IN SERVICES : ISSUES AND INSIGHTS
Sardar Gugloth

Associate Professor, Department of Management Studies, Sri Venkateswara University College of Commerce, Management and Computer Sciences, Tirupati (Andhra Pradesh)

Murali L

Research Scholar, Department of Management Studies, Sri Venkateswara University College of Commerce, Management and Computer Sciences, Tirupati (Andhra Pradesh)
Keywords:
Service Pricing., Pricing, Service
Abstract
overall development of the economy has become more in recent years not only in developed countries but also in
developing countries. The contribution of services to Indian GDP has been more than fifty percent during previous
decade. The expanding economy and markets opened the doors for many business houses to start their venture in
service sector. Because of having unique characteristics, services are posing challenges to the marketers in formulating
strategies. Apart from other marketing strategies, pricing strategies of services has very critical for the service
organizations. Selecting the pricing strategy and assigning the price for the services become complex task to the firm.
In today's cut-throat competitive market, the pricing strategy of services will decide the firm's future. The past research
works revealed that the setting of price for service is influenced by firm's internal and external information. Even though
the some organizations depend on strategies like target price method, mark up pricing etc., but, most of the service
firms did not purely rely on these methods. The service firms collect more external information, related to the market
structure, competitors and customers, for pricing of the services. The purpose of the present paper is to review the
previous research works, which were intended to explore the pricing objectives that service companies pursue along
with the pricing information that they collect in order to price their services. The research studies revealed that the
objectives and pricing information vary across the different service sector.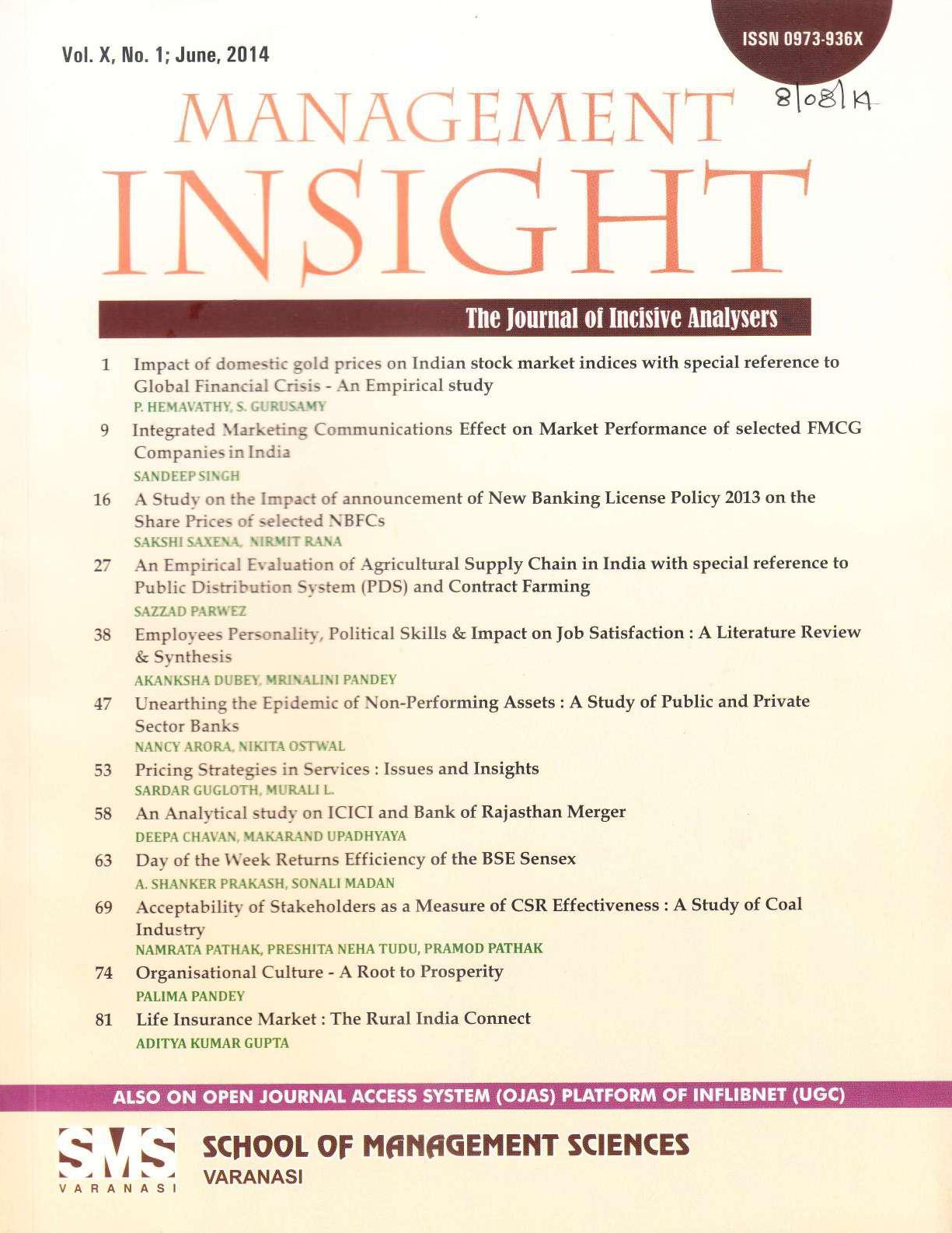 How to Cite
Sardar Gugloth, & Murali L. (2020). PRICING STRATEGIES IN SERVICES : ISSUES AND INSIGHTS. Management Insight, 10(1), 53-57. Retrieved from https://journals.smsvaranasi.com/index.php/managementinsight/article/view/439