AN ANALYTICAL STUDY ON ICICI AND BANK OF RAJASTHAN MERGER
Deepa Chavan

Associate Professor, KG. Mittal Institute of Management, Mumbai (Maharashtra)

Makarand Upadhyaya

Associate Professor (Marketing), College of Business Administration, Jazan University, Jazan, (Saudi Arabia)
Keywords:
Bank, Growth, ICICI, Bank Of Rajasthan, Merger
Abstract
The primary objective of an organization towards M &A's is to create a niche of core competencies and improve
transform the organizational culture to a better and improved form. It helps in design and develops systems in
accordance to the changing face of business across all industrial sectors. An organization aims in Mergers and
acquisitions are committed to extend the relationship with clients beyond the professional horizons to provide them
high level of satisfaction and assurance. Merger deals are grouped into 3 categories viz, Voluntary Merger, Compulsory
Merger and Universal Banking Model which is based on the motives. The ICICI Bank Merger with Bank of Rajasthan
is the seventh voluntary merger and the latest in India after the merger of HDFC Bank - Centurion Bank of Punjab
in the year 2008, compared with other voluntary mergers. This deal also has background of the merger including various
regulatory interventions of authorities like the Reserve Bank of India (RBI), Securities and Exchange Board of India
(SEBI) and Foreign Investment Promotion Board (FIPB). Because of poor corporate governance of the target bank and
cancellation of Extra Ordinary General Meeting (EGM) by the Calcutta District Civil Court this deal also got lots
of attention. In this case, an attempt has been made to analyze the probable impact of strategic tools and features of
the banks on pre and post merger performance.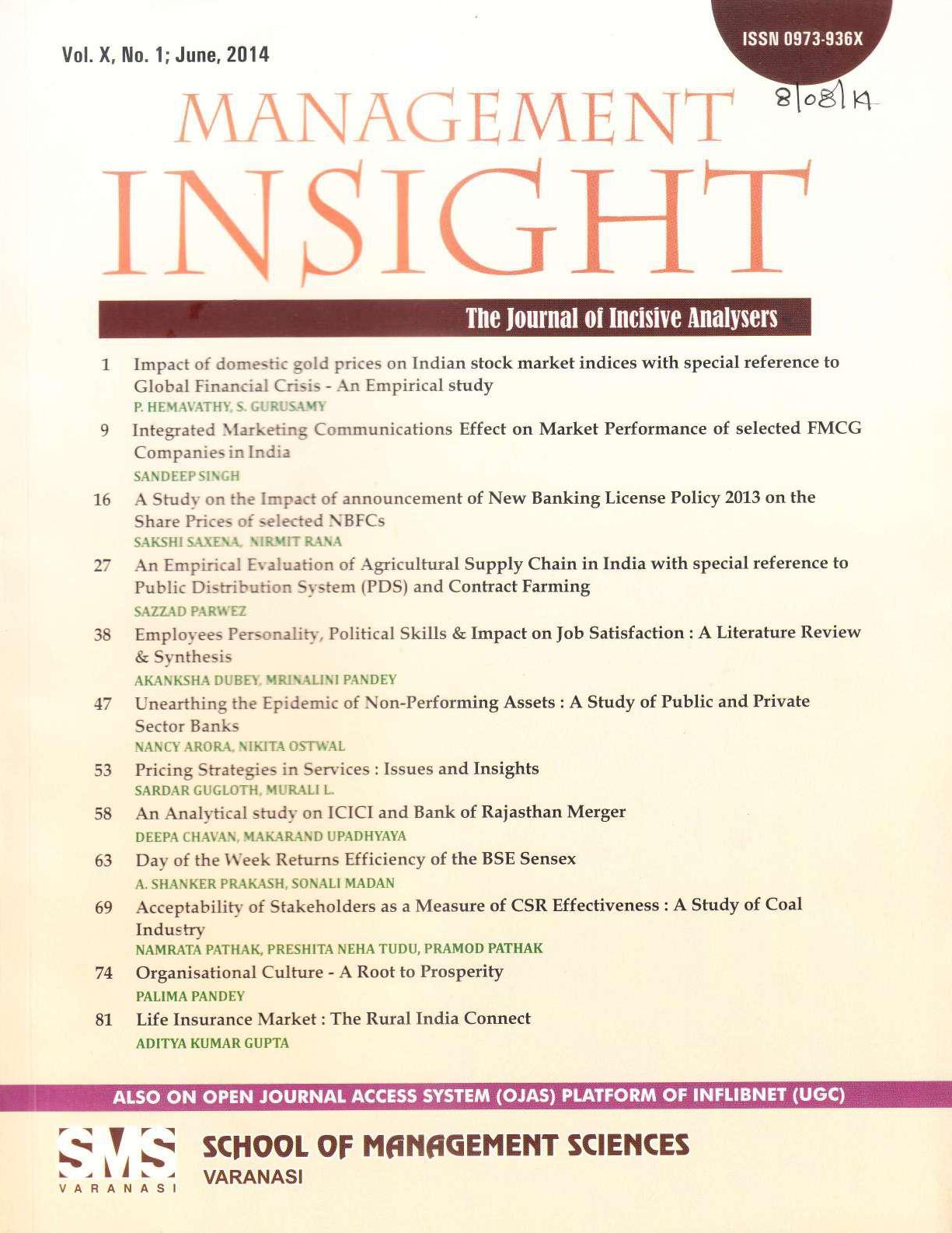 How to Cite
Deepa Chavan, & Makarand Upadhyaya. (2020). AN ANALYTICAL STUDY ON ICICI AND BANK OF RAJASTHAN MERGER. Management Insight, 10(1), 58-62. Retrieved from https://journals.smsvaranasi.com/index.php/managementinsight/article/view/440